If you're looking for a more bespoke Zoom wine tasting, try this one from Aperture Cellars.
With tasting rooms closed due to COVID-19, wineries have been quick to pivot to virtual experiences. Aperture Cellars in Healdsburg, CA, has gone well beyond the standard remote wine tasting with their own unique take on pairings: a guided one-on-one experience that includes a Facetime cooking session with acclaimed chef Douglas Keane, winner of Top Chef Masters and Michelin-starred mastermind behind the Healdsburg restaurant Cyrus, which shuttered in 2012 (a sleek tucked-in-the-vineyards Cyrus 2.0 will open in 2021).
The custom remote-tasting concept is emblematic of Aperture operates. Since its inception in 2009, 36-year-old winemaker Jesse Katz has aimed to expand fans' palettes through chef collaborations like winemaker dinners and partnerships at notable restaurants like French Laundry, Jean-Georges, and Single Thread. Chef Keane's culinary prowess—and his buoyant personality—made him the perfect partner to spotlight Aperture's bright, full-bodied wines through shelter-in-place-friendly dishes.
Here's how it works.
Before the big day, I emailed Keane an overview of my pantry, fridge, and freezer. We then began a lively exchange on what could be finessed with skinless chicken breast, eggs, ground beef, and a panoply of dairy products.
Keane favors bright dishes that "jump in the mouth." We decided upon chili-paste-infused meatballs with a homemade Korean barbecue sauce to play to the intensity of the Cabernet Sauvignon. We also went with corn Chex-crusted chicken fingers with a broccoli-based ranch dipping sauce to accompany the aromatic Chenin Blanc. Why Chex? Because Instacart had mistakenly delivered a family-sized box of the tasteless cereal, and Keane surmised that it would make a lovely crust. And the addition of broccoli to the ranch, well, that was an attempt to make the meal seem healthy.
On the appointed day, Keane and I Facetimed. We started with the ranch dressing, a mix of sour cream, fresh dill, minced garlic, mustard, lime, and sugar. As I don't own a food processor (embarrassing, I know), I used a blender to pulse well-steamed broccoli into a puree and then combined the other ingredients. To gauge balance, Keane had me taste the mixture. The test, he told me, was to see if I wanted another bite. If yes, move on. If no, we needed to play with acidity. A squeeze of lime and pinch of salt was transformative. Then, the meatballs. I hand-mixed ground beef and pork, eggs, chili paste, minced onion, garlic, and bread crumbs. Keane had me flash fry a spoonful of meat to test the flavor. The taste, moist and zesty with just enough heat, made me ashamed of the dessicated golf balls (doused in store-bought pasta sauce) I had been known to serve to my family. The real oomph in this dish, though, would come from Korean barbecue sauce, a condiment I plan on making a staple (he recommends brushing it onto chicken and beef in the final minutes of roasting). Brown sugar, rice wine vinegar, soy sauce, ginger and sesame oil were brought to a boil. To add heft to the sauce, Keane coached me through a pro-level flourish: fashioning a cornstarch "slurry" to act as a thickening agent. The coated meatballs were topped with micro arugula, something I had on hand only due to an online ordering blunder. For the chicken, I dipped strips into flour, beaten egg, and crushed Chex, fried them in vegetable oil and flecked with fresh dill. The result? A sophisticated riff on chicken nuggets.
After a quick change out of my Chex-crusted clothing, I dialed into the Zoom call with Jesse Katz. We sampled the Chenin Blanc, discussing how the wine's high acidity enhanced the liveliness of the ranch sauce, specifically the dill, and accentuated the crunch of the chicken on the palate. The Cabernet, a soil-specific blend grown in volcanic soil from Alexander Valley's eastern-most vineyards, made the already robust meatballs even brighter thanks to the wine's inherent spice and bright acidity that helped cut through the fat.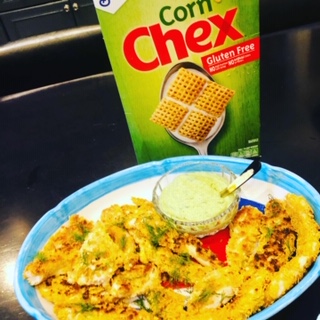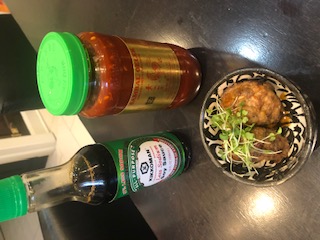 The experience is a wonderful distraction. Thankfully, I tripled each recipe so my husband and daughters could partake in the Keane-crafted meal. But, I kept the wine for myself.
The bespoke tasting can be booked on the Aperture site, and includes three bottles of their wine, approximately two hours of cooking with Chef Douglas Keane, and a Zoom session with both winemaker Jesse Katz and Chef Keane. The fee is $1000, with 50% of proceeds going to Corazon Healdsburg, a nonprofit community center that doubles as a food bank.
This story originally appeared in Food & Wine on April 29, 2020.