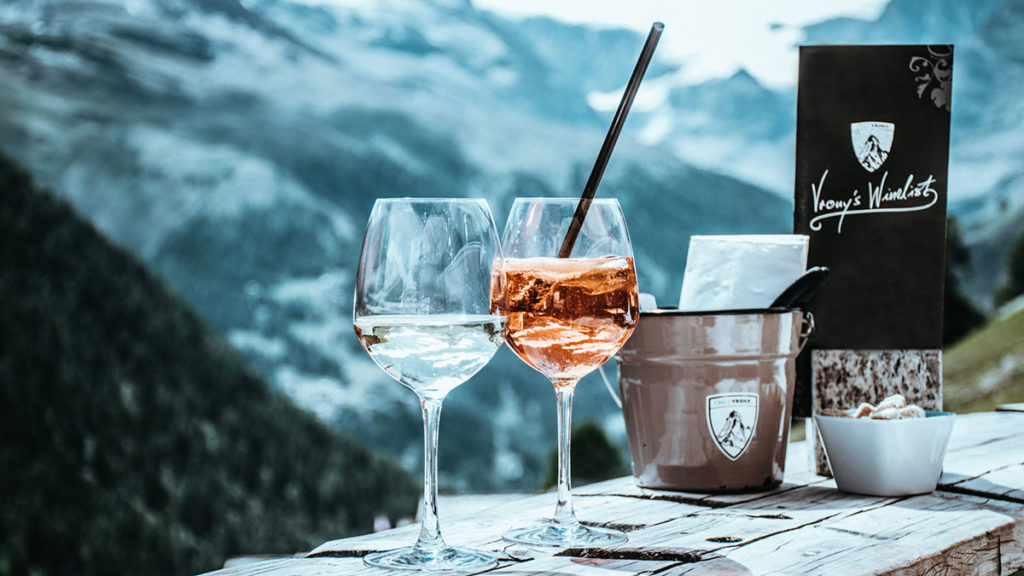 We'll take our Matterhorn views with some Swiss fondue, please.
Zermatt is the stuff of alpine fantasies: Centered around the iconic Matterhorn, 62 percent of the ski resort's terrain is designated intermediate, making it possible for nonexperts to take the Matterhorn Glacier Paradise – Europe's highest cable car – up 12,740 feet to Klein Matterhorn and ski year-round on the relatively flat and scenic glacier before descending on not-too-steep groomers. And Zermatt's sunny, country-straddling position means you can wake up in Switzerland and schuss over to Cervinia, Italy, in time for an Aperol spritz. (Later this summer, the new Matterhorn Glacier Ride II will make that Zermatt-to-Cervinia commute doable in less than four minutes for those who aren't on skis.)
Zermatt's charming, cobblestoned town – bisected by the ice-blue Matter Vispa River – is filled with designer shops, bakeries, chocolatiers, and dozens of restaurants and bars. But the highlight of my visit was dining at restaurants tucked into tiny midmountain hamlets, where classic Swiss fare is enjoyed in the type of wood-paneled, pelt-strewn interiors that have launched a thousand "Cabin Goals" Pinterest boards.
Here, three standout Zermatt mountain-hut restaurants to try.
Zermatt's cozy village and the iconic Matterhorn.Zermatt Tourismus
Dinner and a Sled: Gitz-Gädi
Dinner at Gitz-Gädi, which sits at 7,000 feet in the hamlet of Furi, is an adventure. To get there, visitors take the Matterhorn Express gondola up to the last mountain station and trek for about ten minutes through a meadow under the stars, following the people who read the fine print on their reservation and brought their own flashlights. Settle in by the fireplace in the taxidermy-rich, timber-and-stone dining room, then, after some glühwein, tuck into traditional fare such as Walliser cholera (a flaky pastry filled with apples, cheese, potatoes, and leeks), fondue, and Gruyère-drenched schnitzel cordon bleu. Post-dinner, the real fun begins: Guests bundle up, hop onto the restaurant's wooden "sledges" (sleds), and embark on a thrilling 40-minute descent back into town.
Rustic meets modern at Chez Vrony. Chez Vrony
High Marks for Hygge: Chez Vrony
Guests reach Chez Vrony by hopping off the Zermatt-Sunnegga funicular in the hamlet of Findeln, then skiing or snowshoeing (or hiking in the summer) down to a centuries-old farmhouse, situated at an altitude of 6,889 feet. Dine on the expansive sundeck (the restaurant provides blankets) or inside, where a fantastical mix of sheepskin-layered chairs, cowbells, groovy chandeliers, and modern artwork sprawls across three floors. The fare is traditional and local: The Julen family, who own Chez Vrony, grazes its own herd of cattle in the surrounding pastures during the summer months. Menu highlights include mountain-goat-cheese ravioli with caramelized pears, Rösti (Swiss hash browns) with thick slabs of sausage, savory tarts with truffles and bacon, and charcuterie platters featuring house-cured speck and bresaola.
Swiss pride – and authentic fare – at Findlerhof.Zermatt Tourismus
Local Verve: Findlerhof
To get to Findlerhof, also in Findeln, travelers click out of their bindings, prop their skis on a chapel wall, and head down an alley rigged with a rope and rubber mats. (The reason for these precautions might become clearer as you ascend that same snowy walkway two hours later after a bottle of Jean-René Germanier grand cru.) Inside, the setting is rustic, the mood convivial, and the food hearty: Think Rösti topped with mountain cheese and a fried egg, veal chops, and platters of the region's ubiquitous air-dried beef jerky, Trockenfleisch, topped with ribbons of alpine cheese. The communal seating amplifies the sociable atmosphere; by dessert, you'll likely be swapping powder conquests with new friends from France, Austria, and Australia.