Skiing in Aspen can be a pricey proposition, but if you plan strategically, this tony Rocky Mountain resort can be experienced on the cheap.
If you think Aspen is synonymous with "unattainable," you wouldn't be the only one. After all, that's how the media consistently frames the place, showing celebs and politicians in their Bogner and Kjus. While you can certainly have that experience, what most people don't know is that there's a whole other side to this party-hearty ski town—if you know where to look.
Also Read: The Last Resort Visited Prior to the Pandemic, One Writer Craves a Return to Aspen
We're not saying you won't have make some concessions—for instance, staying outside of town is the difference between spending a couple hundred vs. a couple thousand dollars per night—but there's oodles of deals to be had on dining, après, gear, and on-mountain experience with the right intel. We've gathered it all for you here.
How to Ski Aspen on the Cheap
Best Lodging on a Budget
By staying outside of Aspen city limits, you can reduce the spend on your nightly digs by thousands of dollars.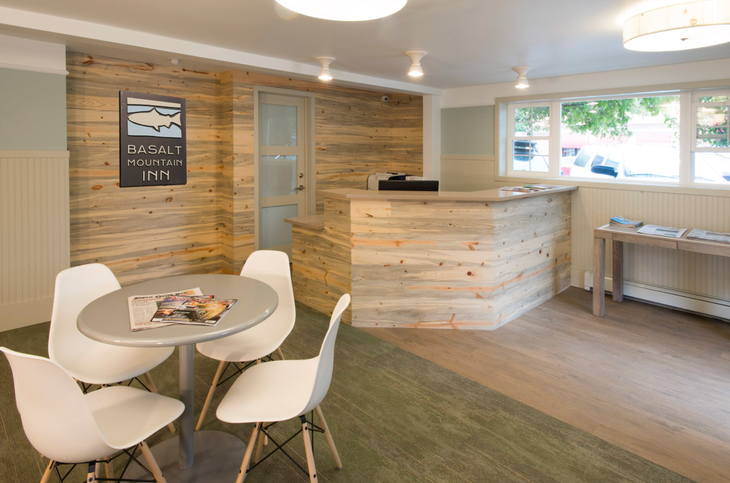 A night at Hotel Jerome with its ski valet, leather-trimmed J-Bar (preferred watering hole of counterculture kingpin Hunter S. Thompson), and swanky cowboy moderne rooms would easily set you back about $1,100 before meals. By swapping proximity for cheap and cheerful digs in Basalt just 30 minutes down-valley from Aspen, you can score lodging plus a grab-and-go breakfast at Basalt Mountain Inn (starting rate $149). The 25-room property is smack in the middle of the lively town close to popular eateries like Brick Pony Pub and Heather's Savory Pies and Tapas. To get to the slopes, it's a five-minute walk to the RFTA public bus ($3, adult, 18 and under $1) and a 30-minute commute up to Aspen and Snowmass.
Just beyond Basalt is Carbondale, another neat little 'surb with a walkable downtown. Check VRBOs and AirBnB's in this location for further savings. Carbondale is just under 40 minutes from Snowmass and about 45 minutes from Aspen. We found an adorable cabin for four with a private hot tub for $189 per night and a downtown apartment for $155 per night.
Best Deals at the Resorts
From complimentary mountain tours to naturalist experiences and First Tracks, there are myriad ways to take advantage of all the mountains have to offer.
In Aspen, resort freebies abound. All four mountains (Aspen, Highlands, Snowmass, Buttermilk) offer Lavazza coffee each morning at the base. In the afternoons, community ambassadors distribute hot cider and RX bars (grab a few extra to sock away in your jacket). In Snowmass, S'mores are served from 3:30-4:30 p.m. at the fire pits in Snowmass Base Village and on the Snowmass Mall.
Locals always have the best intel (duh) on hidden powder stashes, best runs, how to avoid lift lines, and the cheapest on-mountain grub. To get the lay of the land, sign on for an Ambassador-guided ski tour (offered daily on all four mountains). History buffs will enjoy a few laps with Aspen Historical Society (Mondays, 11 a.m. and 1 p.m.) for a tutorial on Aspen's evolution from a mining town to an international ski destination. Seventy-five-year-old Aspen legend Tony Vagneur dispenses fun facts about mine dumps—a row of east-facing, double-black-diamond runs below the FIS lift— and the boat tow, a rudimentary ski lift constructed of two jury-rigged wooden toboggans, or "boats" in 1937.
As an extension of its environmental awareness advocacy, Aspen Center for Environmental Studies offers a cool ski with a naturalist program daily. The experience (participants must be intermediate-level skiers) showcases wildlife adaptations in winter, tracking, and avalanches. If your powder dreams include getting the first crack at freshly groomed corduroy, sign on for First Tracks (advanced reservations required) in Snowmass to tackle the slopes before the lifts open to the public with patrollers and/or instructors. These four on-mountain experiences are free with a lift ticket.
Best Dining on a Budget in Aspen
Aspen has one of the best dining scenes in all of ski country, but that doesn't mean there aren't great deals to be had.
Pre-Covid, Aspen brimmed with bar menus, affordable renditions of the restaurant's fancier dishes designed for sharing at the bar. Sadly, the closure of local spots (RIP, L'Hostaria, Jimmy's, Red Onion) and the soaring cost of food have made Aspen's beloved bar menus a thing of the past. Still, there are a number of happy hours with cheap-ish eats on the menu.
Italian hot spot Mezzaluna has $12 pizzas and $4 Corona and Heineken beers. Hipster-veering carnivores flock to Meat and Cheese for the $25 charcuterie board for two served with housemade sourdough bread, jams, and mustards. At the just-revamped Limelight Aspen, there are $12 wood-fired pizza and $10 house mules and margaritas served in the sleek, just-revamped lounge. For bar food, Hops Culture has $12 Al Pastor quesadillas oozing tomatillo crema, Zane's Tavern serves up smothered nachos for $12.99, and Highlands Alehouse offers wings, baked brie, bison chili, and burgers all under $20. In between Snowmass and Aspen tucked inside the Inn at Aspen (where rooms cost about $300 mid-week), you can sate your comfort food fantasies at Home Team BBQ where a heaping platter of pulled pork complete with bread, and two sides clocks in at $15.95. The $15.95 burger is also a crowd-pleaser. It comes with two patties layered with bacon and cheese on a brioche bun along with a hearty side dish. For healthier fare, follow the locals one block from the Aspen gondola to The Big Wrap (note: cash only!) where gargantuan wraps like Hail Caesar (honey citrus chicken, black beans, red pepper, lettuce, feta, pumpkin seeds), and Babs-e-que (mashed potato, grilled steak, confetti slaw, roasted veggies, chipotle BBQ sauce) cost $9.30 and can be easily split between two skiers.
Best Gear Deals in Aspen
Hit the thrift stores and consignment shops to avail yourself of gently-used gear that's ready for a new owner.
If you are in the market for a new jacket or skis, Aspen is a paradise for secondhand gear. At Susie's, you can find "gently used" Bogner sweaters, Tecnica boots, Moncler knits, Obermeyer jackets, and Jet Set pants for astonishingly low prices. Another goldmine is Thrift Shop of Aspen which traffics everything from Armani and North Face to barely worn goggles and gloves. Proceeds fund grants to a variety of nonprofits in the Roaring Fork Valley. Replay Sports has top-notch gear-think snowboards, poles, boots, skis- for a fraction of retail. Products are unloaded by pros or Aspenites simply upgrading