After weeks of chugging wine from a sad juice glass, eyes glued to MSNBC, I'd had enough. Enough of consuming news 24/7. Enough of pajamas as day wear. Enough focusing on doom and gloom. I decided to perk things up, first, by turning off the television. Second by instituting a glamorous afternoon aperitivo hour.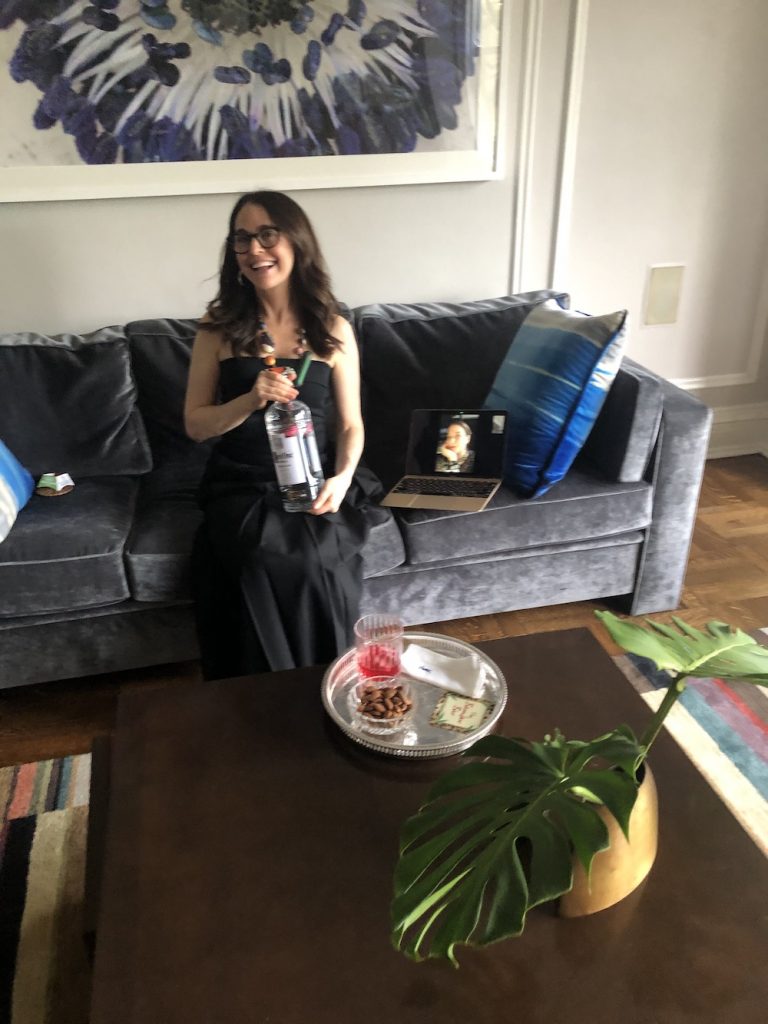 Having traveled the world for a living, I am well versed in the language of cocktail presentation. There must crystal barware, a linen napkin and a salty snack proffered in an eye catching vessel. For ambiance, candles and a Louis Armstrong heavy playlist. A critical element? Getting dressed for the occasion. I know that I will have no audience to appreciate my efforts. But, I also know that when I look good, I feel good. So, when five o'clock rolls around, I ditch the skanky sweats and pop on an ensemble that I would have worn pre-Covid, say a vibrantly printed Duro Olowu dress, Maria Cornejo pantsuit or groovy Veronique Branquino pleated tube top dress (pictured)Accessories, of course are required. And a swipe of lip gloss.

For last night's Zoom cocktail hour with opera singer Genevieve Thiers (who worked a velvet and lace top and armful of bangles), I set out a vintage silver tray with a bowl of almonds in a cut crystal bowl and my vodka cranberry in a Baccarat old fashioned tumbler. The YSL linen napkin was swiped from an extravagant Opium perfume fragrance event held at Mr Chow in NYC back in the late 90's. From 5-7 p.m., as we lounged in our finery and gabbed, all felt well in the world.