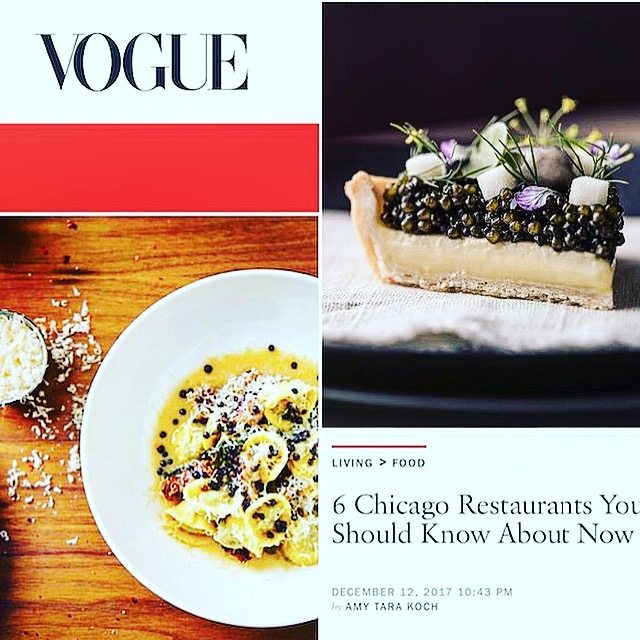 14 Dec

6 Need-To-Know-About Restaurants in Chicago

After decades of taking a back seat to New York and Los Angeles, Chicago has emerged the belle of the restaurant ball with dozens of Michelin Stars and James Beard Awards to her name not to mention accolades from top publications recognizing the Third Coast as the most exciting American city to eat in. The latest batch of eateries, many husband and wife teams, pay homage to to the Midwest with wildly creative, seasonally-inspired flavors and offer the opportunity to experience eclectic pockets of the city, from Logan Square to the West Loop and Pilsen, a lesser known neighborhood quickly evolving into a dynamic hub.

Daisies, Logan Square

At Daisies, Chef Joe Frillman's "fruit to root" riffs on classics reflect his locavore meets Abruzzo point of view. Though house-made pastas get top billing, vegetables are the true stars: a carrot rillettes appetizer sings with fennel and coriander, a coating of duck fat and dollop of house-fermented horseradish crème fraîche. Fried mushrooms (first dehydrated for maximum crispness) and cheese curds are refined and almost delicate. A raw butternut squash salad dressed with pecans, pumpkin and sunflower seeds and Parmigiano-Reggiano is surprisingly satisfying thanks to a luxurious brown butter vinaigrette. The 70 seat space is as inviting as the flavors; a decorative tin ceiling, exposed brick walls and a warm neighborhood vibe with just enough edge to keep things exciting.

2523 N. Milwaukee Avenue

Haisous Vietnamese Kitchen

Pilsen, with its empanada stands, indie book shops and graffiti-kissed small businesses is a perfect perch for Haisous, Danielle and Thai Dang's progressive Vietnamese eatery. Dishes like octopus salad with kaffir-infused coconut cream and chili -scented eggplant topped with fried shallots and falls-off-the-bone rabbit leg (cured and then confited in duck fat) stew with curry essence, coriander and cardamom are examples of a menu brimming with tradition and gastro-zip. Chef Dang's soulful connection to his past is felt throughout the space. Metal doors and room-dividing screens were repurposed from his family home in Dong Nai, tables and chairs were crafted by relatives in Vietnam. Even decorative rough hewn spikes of bamboo were sourced from a family that has been harvesting it in Saigon for decades.

1800 S. Carpenter Street
Elske 
After you have passed through the courtyard ( this area becomes an edible garden in the spring) with benches and hygge -delivering pelts, post the first swig of wine, the funk of koji butter and dark rye thrusts you into the Scandi-fab adventure that is Elske. Chefs Anna and David Posey (he formerly of Blackbird and Alinea, she of The Publican) offer a menu that is modern and minimalist, even a tad romantic. Things kick off with a schroomy tea of smoked fruits and vegetables, a side bite of matsutake "toast."  Cured fluke served in kombu broth with a dusting of black lime and cucumber powders tastes of brine and earthiness. Another dish, paper-thin rainbows of  golden, ruby red and chioggia beets layered over sweet potato tempura shines brightly with a puree of lemon balm and buttermilk. The sour honey-topped sunflower seed parfait served alongside a licorice crumble with bee pollen is the perfect finish, slightly sweet, a hint of savory
1350 West Randolph
Bellemore
Airy and bright with white oak chevron columns, mid-century modern inspired lighting, rattan-accented leather banquets and a tony marble bar flanked by two massive wrought-iron bird cages with avian taxidermy-the Bellemore oozes glamour with a dose of whimsy. The food, though, is pure elegance. Chef Jimmy Papadopoulos proffers seasonal American fare with luxurious touches: a sliver of oyster custard pie topped with Osetra caviar and dill- speckled creme fraiche, a fall salad with port-braised quince, pumpkin seeds and grilled beets fancified with a whipped gorgonzola filled cannoli.  Dry aged duck is glazed with raspberry vinegar and served with breaded confited leg meat crisped into a croquette and a crépinette of duck heart.
554 West Randolph
Marisol
On  the ground floor of the newly reimagined Museum of Contemporary Art (MCA), Marisol offers lively Mediterranean flavors inspired, in part, by the "immersive art environment" masterminded by artist Chris Ofili who painted an on-site mural, executed line drawings on the walls, etchings on the glass and selected fabrics for the restaurant. Chef Jason Hammel, a chef beloved for support of local farms and sustainability, echoes this passion for color, whimsy and layered textures. His brussels sprouts salad is a medley of raw leaves dressed in a burnt orange vinaigrette and deep fried 'petaled' ones over smoked whitefish and Cara Cara orange, topped with wee frost-kissed leaves of bok choi and caramelized poppyseed. Black trumpet mushrooms and sweet peppers mimic the the ribbon shape of mafalde twisting like vines around the pasta. A winter white kohlrabi salad with sesame, pear, endive and chestnut is all about contrasts, especially poignant when presented on a black platter by ceramicist Jono Pandolfi.  
205 East Pearson Street
SMYTH
Much is expected from a sous chef who toiled under culinary titans' Charlie Trotter and Grant Aschatz. Even more so when his wife , a fellow Trotter alum, is the pastry maestro.  Smyth's nouvelle fine dining experience-no tablecloths, random courses showing up just because, Duran Duran and Led Zeppelin thrumming- nails Chicago's kinetic high concept, zero pretension dining scene. Farm to table is the mantra of many restaurants. The Shieldses, collaborative relationship with a local farm take this concept to another dimension allowing them to source custom ingredients like bonbon squash, red vein sorrel, Fujikaze radish, chocolate sunflower, red beauty amaranth, Shuka flowering cabbage for their dishes. This is a tasting menu only situation You'll dive into a five ($95) ,eight ($145) or twelve ($205) course meal, wine pairings optional. Highlights- Pillowy brioche doughnuts fried in beef fat, Dungeness crab combined with foie gras and an umami explosion of kani miso egg custard, braised turnip and black radish atop a sea urchin cream with leeks and fermented razor clams- showcase artful compositions of incredibly tasty food flecked with Midwestern verve.
177 North Ada Street
This story appeared in VOGUE MAGAZINE on December 13, 2017